Shocking Force
---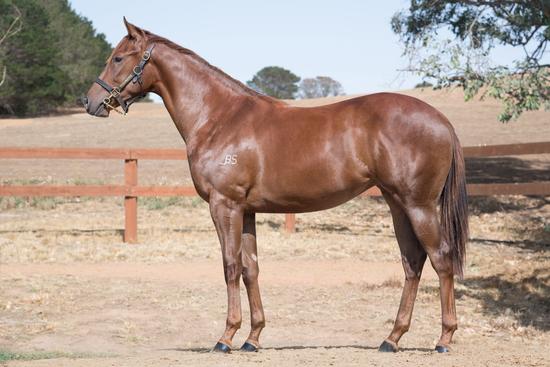 Sire: Air Force Blue
Dam: Little Shocker
Colour: Chestnut
Gender: Filly
Age: 2 year old
Foaled: Sep 13th, 2018
Country: Australia
Silks: White Tri Coloured Triangle Black Sleeves White Cap
---
Pedigree
SHOCKING FORCE (AUS)

Chestnut Filly
Foaled in 2018

---

| | | | |
| --- | --- | --- | --- |
| Sire | War Front | Danzig | Northern Dancer |
| AIR FORCE BLUE (USA) | | Starry Dreamer | Rubiano |
| 2013 | Chatham | Maria's Mon | Wavering Monarch |
| | | Circle of Gold | Seeking the Gold |
| Dam | Shocking | Street Cry | Machiavellian |
| LITTLE SHOCKER (NZ) | | Maria di Castiglia | Danehill |
| 2013 | Chicken Little | Telesto | Star Way |
| | | Twining | Twig Moss |

---

AIR FORCE BLUE (USA) (Bay 2013-Stud U.S.A. 2017, Aust. 2017). Champion 2YO Colt in Europe in 2015. 4 wins at 2, Newmarket Dewhurst S., Gr.1. Out of SP Chatham. Sire of SP Chief Little Hawk and of Giorgio Vasari, Beauty Queen, Choctaw Bingo, Mashnee Girl and of the placegetters Blue Hero, Diamonds are King, Guana Cay, Hyde Park Barracks, Off We Go, etc. His oldest Aust.-bred progeny are 2YOs.

1st dam

LITTLE SHOCKER, by Shocking. 4 wins-1 at 2-to 1250m in Aust. Half-sister to Capital Commander, Little Favours. Dam of one named foal.

2nd dam

CHICKEN LITTLE, by Telesto. 5 wins to 1400m, QTC Desert Chill H., 2d Qld Tatt's RC Hardy Brothers Jewellers H., BTC Acis Race Day H., McCullough Robertson Lawyers H., 3d GCTC Yalumba H. Half-sister to Intertwined (dam of HOW FUNNY). Dam of 9 foals, 8 to race, 6 winners, inc:-

Capital Commander (Commands). 9 wins from 1100m to 1600m, A$450,625, GCTC Magic Millions Quality H., ATC Cruise Guru & P&O Cruises H., James Boag H., Snap Liverpool H., 2d ATC Nivison S., L, Buy Your Next Racehorse at Inglis H., Harvey Norman H., Parramatta Leagues Club H., 3d GCTC Magic Millions Quality H., ATC Sportsyear H., Busby Rising Stars Heat H., 4th ATC Angst S., Gr.3, Wyong RC Mona Lisa S., L. Dam of-

Lady Pavli Chenko. 2 wins at 1100m, 1200m in 2019-20, 3d SAJC Furphy H., Murray Bridge RC Beverley and Trevor's 50th Wedding Anniversary H., TAB H.

Little Favours (Falvelon). 4 wins to 1050m, A$120,710, BRC Mount Franklin H., Eureka Stud H., 3d BRC Mick Dittman P., L. Dam of-

Stravain. 3 wins at 1000m, 1100m, A$102,430, to 2019-20, 2d MVRC Ladbrokes 55 Second Challenge H., MRC Ladbrokes Same Race Multi H., Foundation H.

Little Shocker. 4 wins. See above.

Vertical. 2 wins at 1200m, 1250m in 2019-20 in Aust.

Shockadoodledo - Sportsmanship (Mac.). 2 wins at 1800m in Macau.

Sonic Jet. Winner at 1400m in NZ.

3rd dam

TWINING, by Twig Moss. 6 wins-3 at 2-from 1000m to 1600m, A$253,530, VRC Bloodhorse Breeders' P., Gr.2, AJC Emancipation S., L, Sledmere H., Dark Jewel H., MVRC Victoria Meat Supplies H., STC Ray Hadley H., 2d VRC Waltzing Lily H., L, STC Birthday Card H., L, SAJC Persian Carpet Gallery H., VATC Campbell Cash & Carry H., 3d STC Orlando Wines Classic, Gr.1, VATC Blue Diamond S., Gr.1, STC OTC Welter H., 4th VATC One Thousand Guineas, Gr.1, AJC Silver Shadow S., Gr.3. Half-sister to Another Call. Dam of 9 foals, 6 to race, all winners, inc:-

Horse Fortune. 6 wins from 1000m to 2000m in Macau, Macau Hupei H., 3d Macau Spring Trophy, Macau Derby.

Chicken Little. 5 wins. See above.

Intertwined. 3 wins-1 at 2-to 1400m in Aust. Dam of-

HOW FUNNY (Rory's Jester). 2 wins at 2, US$4,400, A$882,550, BTC Tommy Smith Slipper S., L, STC Join the STC Now 2YO H., 2d STC Golden Slipper S., Gr.1, Sweet Embrace S., Gr.3, GCTC Magic Millions 2YO Classic S., RL. Dam of-

JESTER'S GIRL (Commands). 2 wins at 900m, 1200m, A$111,350, Qld Tatt's RC Travel Associates Classic, L, 2d BRC Just Now H., L, ATC Liverpool Catholic Club H., SGE Credit Union H. Dam of-

ASSIMILATE (Sebring). 5 wins-2 at 2-at 1200m, 1400m, A$339,200, HK$3,287,600, to 2019-20 in Aust. and HK, Canberra Guineas, L, 2d ATC Ming Dynasty H., Gr.3, BRC Fred Best Classic, Gr.3, Scone RC Inglis 3YO Guineas, L.

The Comedian (Encosta de Lago). 10 wins to 1400m, A$64,475, S$551,627, 32,112Dhs in Aust. and Singapore, Singapore TC Tabcorp Holdings Limited Trophy, 2d Singapore TC Committee's Prize, L, 3d Singapore TC EW Barker Trophy, L.

Dreaming On (Marscay). Winner at 1400m, AJC Tellers H., 3d Gosford Classic, L, AJC Gallipoli H. Producer.

Hold Me Closer. 2 wins at 1300m, 1400m, ATC Membership on Sale Now H., 2d ATC Musir at Coolmore H. Dam of-

THOUGHT OF THAT (So You Think). 2 wins at 1600m, 2000m, A$276,360, in 2019-20, MRC Caulfield Classic, Gr.3, 2d MVRC PFD Food Services H., MRC Le Pine Funerals H.

Tarcoola Sunshine. Placed in Aust. Dam of-

Nightwatchman - Smart Win (Mac.) (Hard Spun). 6 wins to 1400m, A$113,835, M$1,163,325, to 2019-20 in Aust. and Macau, WATC James Boag's Premium P., Macau Classic Cup, 2d Macau Chairman's Challenge Cup, L.

Priceless Diamond. Unraced. Dam of-

Magnarock (Magnus). 3 wins to 1200m, A$105,975, to 2019-20, 2d VRC Poseidon S., L, ATC TAB Highway H.

Sun Moon Lake. Unraced. Dam of-

Borris in Ossory (King Cugat). 12 wins from 1400m to 1600m, A$261,405, to 2019-20, SAJC Fleurieu Milk Company H., M&J Chickens H., TAB H., 2d Murray Bridge Gold Cup, L.

Race Record:

Unraced.